wizsdailydose.com » Uncategorized » The Wiz's Daily Dose Welcomes Dee Mya
Introduction:
In our latest showcase we would like to present to you the visitor Dee Mya "Model and Video Vixen from the NYC. Her resume speaks for its self continue to read on and get familiar…
Bio:

DEE MYA – a model from NYC is an actress and model that has been featured in numerous projects from (cosculluela-plaka plaka /juelz santana-days of our lives/donnis -gone/ ace hood trey songz-ride or die/ jadakiss swizz beatz- whos real /the dream -rockin that thing all star remix/ nefu da don ft yung berd-lets make music/ ron browz cheese and crackers/ lloyd banks-cake, trey songz ft fabolous- say ahh/ getto ft cassidy-keepin it gangsta / yeyo ft notch-please dj, phar city ft range- part time lover/ hector el father yomo jim jones- hello mama remix/ and many more also working with magic juan,skull gang, goddamnrec, tali y massiah, lda baby ranks, and emmure,
she has been on covers to enfluenz, egirls, miami life and featured in laced, and latina mag,
she has also been acting in movies-marconi bros the way we party and the love potion, did backup dancing for notch on Despierta America and has modeled clothes on Telemundo, also is working on clothing campaighns with ::noahgpop, rolo wear and bowdown,":: and has been in the ny post opposite of snooki.
Bonus scans: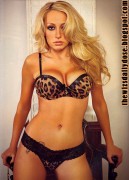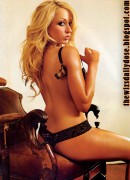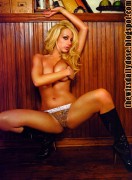 Credits to rapmodels.net for getting ahold of the speaker images first..
Videos:
Sites:
myspace.com/deenamya
Note:
You can also catch Dee Mya in King Magazine Summer issue with Trina on the cover and Rapper Pitbull – Oye Baby Music Video.

Filed under: Uncategorized · Tags: Dee Mya, Images, Spotlight Edition, the Wiz's Daily dose