Spotlight Edition: Haus the Boss "Boss'D Up Straightout the Bay!"
Introduction:
This interview has been long overdue, I finally had the chance to chop it up with one half of the world renowned NVUS twins Straight from the bay area "Hasana aka Haus the Boss".. She is definitely intriguing and fierce as they come in this industry.. Get familiar with Haus the Boss as you read on…

Brief about me:
I am an identical twin who modeled as a child, and has been back in it the past five years. We have done several fashion shows, promotional events, videos, and print work in the Bay Area, making a name for ourselves, The NVUSTWINS ! We are looking to expand our career and networking.  Willing to travel as well.
Please feel free to email us @ nvustwins@yahoo.com and check out our website www.nvustwins.com
Interview:
Hennywiz:
Welcome to The Spot(The Wiz's Daily Dose), Haus.
Haus the Boss:
Hey Henny thanks for having me.
Hennywiz:
First off, where are you from and what's your ethnic background?
Haus the Boss:
I'm from Fairfield, Ca and I'm a mixture of a few different races including creole, but identify with being black!
Hennywiz:
What are your measurements for the readers that might not know?
Haus the Boss:
Measurements are as follows: 36D-27-38
Haus the Boss:
I've mostly been inspired in this industry from my twin. What better force of ammunition other than your mirror image? She's definitely one of the major reasons I do it, not to mention our mother who started our careers in modeling as twin infants.  I've always had a thing for fashion watching my grandmother have some of the finest linens purses and jewelry.
Hennywiz:
Give a rundown of some the photographers you've worked with to help create your fierce looking photos?
Haus the Boss:
Some of the photographers I have worked with include Maurice Chatman, Mark Edwards, Taj the Director, Michael Vincent, DRAY, Charles Black, Tom Huynh, Joe B, Scam Photography, Keif Savage
Which publications have you been featured in to date?
I have been featured in Skin Tones Magazine, Dream Curves Mag, Damn Girl Mag, Ozone Mag, Titanium Girlz and Hair Source Mag. Not to mention I've showcased several times on DynastySeries.com. Big ups to the dynasty fam!
Hennywiz:
You have alot of images amongst the web masses; which shoot is you're most memorable?
Haus the Boss:
One of my favorite shoots of all time was at the W in SF. The shower scene is a pure favorite. For some reason I like being WET in pictures, it something about the water beading on my oily skin that illuminates the pics! Another is the HOT TUBS with my NVUS twin sis. Those created a up roar and got us quite a few hits on the net not to mention on media takeout!
Hennywiz:
A question I tend to ask models/vixens is, in this forever evolving business, new faces emerge by the minute. What separates "Haus the boss" from your peers?
Haus the Boss:
 This is true new faces pop up every day, but just as fast as they pop up they fade away. This industry isn't made to make you it will break you! I've endured the struggle!  One thing that keeps me separate is that I do have a twin but not only that I have done my share, in my solo career too. So I Boss'd up and let them know I can handle the lens just fine by myself!
Hennywiz:
What is your overall opinion of the modeling industry?
Haus the Boss: My opinion of the industry is connections. Everybody knows somebody and the networking is a pure link to the bigger picture.  It's a new day where it's about money, and power which to me is over rated.
Hennywiz:
Some may remember you and your twin blessing the web masses with images; is she still modeling aswell and if so what coming up for ya'll as a tandem?
Haus the Boss:
Yes most know us as a duo, The NVUS twins (pronounced envious).  My sister recently took a short break while she entered a new phase o f motherhood, however she is BACK and better than ever! KILLLLLLIN em!! We've been working hard in front of the lens lately and have created the NVUS buzz back in full effect.  We will be coming to some new web features, print and videos near you!
Hennywiz:
What are some of your long term goals as you continue to progress in your career?
Haus the Boss:
 Some of my long term goals include more features on main stream publications. I'd also like to land a mainstream video roll or acting extra.  First and foremost however I plan to finish up my nursing degree.
Hennywiz:
What has been some of the highlights of your career?
Haus the Boss:
This journey in itself has been a highlight. Each and every opportunity that comes about is a blessing.  I'm always grateful for meeting new people and expanding my career. Each moment is a memorable one!
Hennywiz:
What other interest do you have besides modeling?
Haus the Boss:
Besides modeling I like to travel and shop. I'm a well rounded type of lady! I love sports especially basketball and fights.  I love to camp, snowboard and enjoy water sports like tubing.  I also have an interest in languages I know how to speak a little of a lot of them. I spend free time expanding and exploring different cultures and customs.
Hennywiz:
Is acting in your plans for the future; is "Haus the boss" bound for the big screen?
Haus the Boss:
Acting is definitely not a road I've traveled but I'm not afraid to explore! I wouldn't mind landing a role in a film.  Actually I've been thinking about expanding this avenue.
Hennywiz:
What would be a dream role for you?
Haus the Boss:
A dream role for me would be to play in a movie with 50 cent lol
Hennywiz:
Let's get deep now… is there someone special in your life?
Haus the Boss:
 There is someone special in my life, but it's complicated!
Hennywiz:
What qualities do you look for when choosing a significant other?
Haus the Boss:
Qualities I look for in a man include good hygiene, Swagg, Street and Book smarts as well as knowing where they are going in their own life.  I feel that a man must know what he wants and where he is going in his own life, before they can take the venture to walk with someone else.
Hennywiz:
What advice do you have for someone that would like to approach you in public?
Haus the Boss:
My advice for someone trying to approach me in public is to just be you.  All the corny lines are cute sometimes, but I think the best way to approach me is don't do too much just being you is enough!
Hennywiz:
What turns you on the most?
Haus the Boss:
Smell goods and nice teeth are turn on's.  I like bald heads and I love SWAGG
Hennywiz:
What is an ultimate turn off for you?
Haus the Boss:
The ultimate turn off is bad hygiene and no dental care!
Hennywiz:
I might know the answer to this; what part of your body are you most complimented on and what is your favorite asset(s) on you?
Haus the Boss:
The part of my body that I am most commented on is my cakes
J
 I also get commented on my eyes a lot I think it's their almond shape and color. A lot of people ask if I have Asian in me
Hennywiz:
How would you describe your fashion style?
Haus the Boss:
My fashion style is considered "twinsetter" ! Because I have an identical twin she keeps it all the way real and let me know if it's HOT or if it's NOT! I create my own trends and style staying to date with the latest high end goods. Expensive taste, lavish habits, and my lifestyle are fancy!  I have a shoe and accessory fetish.
Hennywiz:
What genre of music are you into?
Haus the Boss:
I'm pretty well rounded when it comes to music.  I like old school R&B, hip hop, rap and easy listening. I appreciate good music and I support my BAY area artists!
Haus the Boss:
My guilty pleasure is chocolate malted crunch ice cream; only rite-aide has it!
Hennywiz:
Name some things you couldn't live without?
Haus the Boss:
Some things I couldn't live without are my TWIN, my VISA, My flip and my camera.
Hennywiz:
I really appreciate you taking the time to grant me this interview. Don't be a stranger; keep us updated with your future endeavors… Anything you want to say to your fans out there?
 Haus the Boss:Thanks for finally getting your daily dose Wiz, it's been over due J I appreciate you having me! Next you can double up with the NVUSTWINS ! But for now you can expect to see me rocking the net non- stop,  So stay tuned in to a BOSS!  Be sure to check me out on DreamCurvesMag, Dynasty Series, and Nvustwins.com.  To follow me add ya girl on twitter @haustheboss and @nvustwins. 
Haus the Boss ~ NVUSTWIN 1
Photogallery: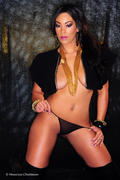 Sites: 
twitter.com @haustheboss
nvustwins.com
Big shoutout  Maurice Chatman follow him on twitter.com @ChatmanImages for the Exclusives images of Hasana aka Haus the Boss(NVUS Twin #1)